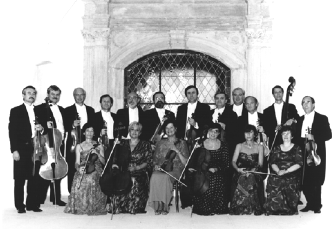 "Budapest's Liszt Chamber Orchestra is one of the world's finest."
- Ovation -
Since1963, the Franz Liszt Chamber Orchestra has been universally acknowledged among Hungary's foremost ensembles. The orchestra comprises 17 virtuoso string players in repertory from the baroque through the modern era.
The FLCO tours extensively throughout Europe, Japan, and the Americas, and has appeared at the major festivals of Edinburgh, Bath, Helsinki, Luzern, Gstaad, Prades, etc. Internationally-acclaimed soloists with whom the orchestra has collaborated include Maurice Andre, Martha Argerich, Emanuel Ax, Igor Oistrakh, Jean Pierre Rampal, Mstislav Rostropovich, Yehudi Menuhin, and Isaac Stern.
In addition to its current recordings for Sony Classical, the FLCO can be heard on the CBS, Teldec, EMI, Harmonia Mundi, Erato, Hungaroton and Denon labels. They have been honored with the prestigious Grand Prix du Disque three times, plus numerous Record of the Year awards in Hungary.
Violinist Janos Rolla has served as leader of the FLCO throughout its entire history. He has performed as soloist and in chamber music worldwide, having collaborated with such artists as Maurice Andre, Alfred Brendel, Jean Pierre Rampal, Andras Schiff, Isaac Stern, and Tamas Vasary. He received Hungary's highest artistic award, the Kossuth Prize, in 1985, and added to the Middle Cross of the Hungarian Republic in 1995.
Names of the Artists

Janos Rolla, Leader

First Violins

Violas

Zoltan Tfirst

Mihaly Varnagy

Gyorgy Lovas

Andras Pista

Peter Hamar

Erno Klepock

Jozsefne Bakos-Aldor

Peter Gazda

Celli

Pal Kelemen

Second Violins

Andrasne Bano-Sandor

Eva Isepy

Maria Frank

Gyorgy Kiss

Kalman Kostyal

Bass

Janosze Rolla-Wetsz

Attila Martos